The Executive Committee (EC) of the San Diego CFAR is a local group composed of internationally renowned scientific leaders who are not directly supported with CFAR funds and who represent all member institutions.
The EC ensures that the quality of science and the San Diego CFAR program as a whole remain at a high caliber and continue to incorporate new directions and innovative ideas. Specifically, the EC provides a review of our Center annually in partnershp with Core Directors. EC members review and vote on recommendations regarding proposed funding reallocations above $25,000, creating or closing service cores, or other issues identified by CFAR leaders. Members also actively participate in our Center's strategic planning meetings.
Our current San Diego CFAR Executive Committee members are listed below.
---

Expertise: Local and international clinical research, training programs.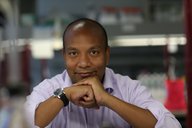 Expertise: Molecular virology
Expertise: Neuropsychiatric aspects of HIV

La Jolla Institute for Immunology

Expertise: Behavioral science and health promotion

Expertise: Local and international training programs

Expertise: Viral immunology

Staff Manager & Registered Representative at Western & Southern Life
Expertise: Public Health, and Community Leader